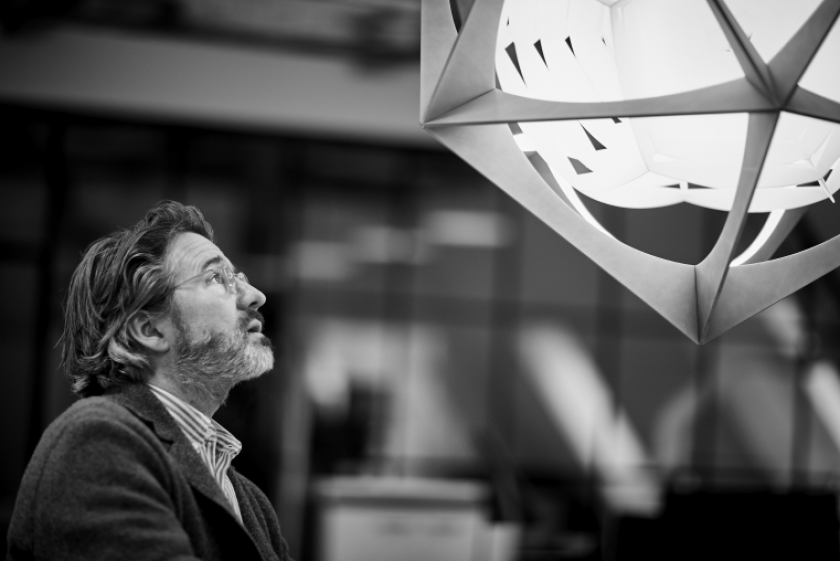 Introduction Louis Poulsen OE Quasi Light
Last updated on January 13th, 2020 at 11:33 am
Design to shape light
Olafur Eliasson is a Danish artist of Icelandic descent.
He has become world famous for his monumental sculptures and architectural installations combining natural phenomena, such as light and water, movement and reflection, with the beauty of mathematical forms and equations.
He is well-known for his concerns about ecology and the climate
Louis Poulsen, a renowned Danish manufacturer of exclusive designer lamps, has collaborated with Olafur Eliasson on creating the OE Quasi.
The OE Quasi is a new, large-scale pendant lamp that uses intricate geometry to shape light.
Their collaboration reinforces Louis Poulsen and Eliasson's shared idea that good light = good life.
The OE Quasi is presented with famous furniture by Danish architect Poul Kjærholm and with sculptural lamps by architects Gae Aulenti, Le Corbusier, Zaha Hadid, Frank Lloyd Wright a.o.
'I wanted to create a product that doesn't produce any waste and that is something people will keep forever.'

Olafur Eliasson
Culture park 'De Toekomst'
'De Toekomst' is a former straw-board factory in the north of the Netherlands.
Built in 1908 by the 'Cooperative Association the Future' to a design by architect P.G. Cremer, the building and its machinery are still largely intact.
'De Toekomst' is historically of architectural, industrial-archaeological and economical importance, and was designated a national monument in 1997.
From 2019, with an eye to the future, the factory building is being developed towards a cultural and recreational destination.
Exhibition information
The opening on Friday evening 24th is performed by Marianne Brouwer, art historian, curator and writer, specialized in contemporary art.
Date: January 24, 2020 from 5 p.m. – 10 p.m., 25 and 26 January 2020 from 11 am to 5 pm.
Address: In De Toekomst | Scheemdermeesterweg 37 | Scheemda | The Netherlands