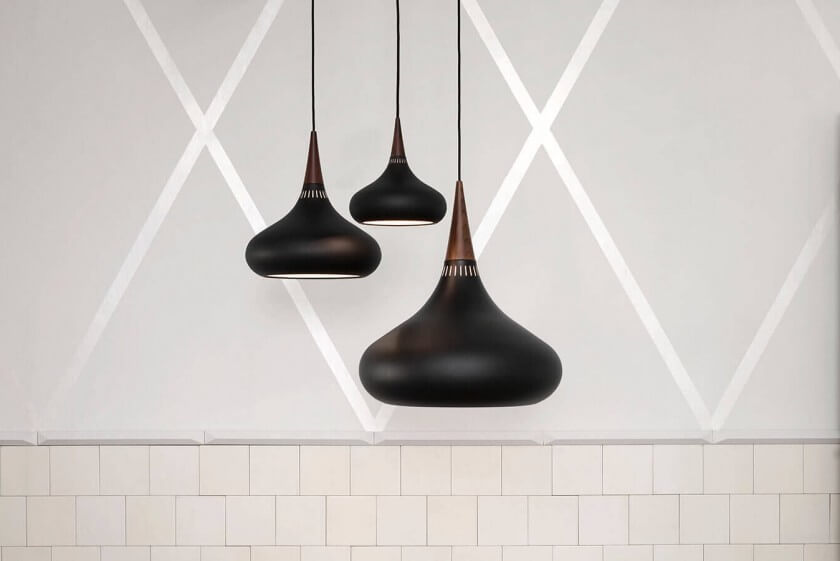 Orient Black by Jo Hammersborg for Lightyears by Fritz Hansen
Last updated on November 4th, 2017 at 10:50 pm
Orient was designed in 1963 and was one of Jo Hammerborg's many commercial successes in the 1960s and 1970s. The timeless design and the solid, high quality materials have yet again contributed to Orient showcasing its worth in the 21st century.
The Orient pendant was originally created with five different surfaces. Lightyears is now launching a revamped version of the famous pendant, Orient Black.
Orient Black
A matt black, aluminium pendant inspired by the original black design but with a modern twist. The matt surface makes the timeless design appear simpler and purer.
The shade appears more discreet, while giving the rosewood's dark grain a more prominent role.
Orient Black is available in two original pendant sizes, ø225 and ø340mm, and it can also be commissioned in a larger ø500mm version.
The large pendant creates new opportunities for interior decoration as it can be suspended high up, illuminate a large round table or form part of more comprehensive cluster formations.
Furthermore, should you wish to combine the lamps in your interior decoration project, Orient Black also blends very beautifully with the copper design.
The designer
Jo Hammerborg grew up on the outskirts of Randers in a regular middle-class family. He trained as a silversmith, participated in Denmark's resistance and struggle for freedom in 1940-45 as a saboteur, studied at the Royal Danish Academy of Fine Arts and worked as a silversmith at Georg Jensen.
In 1957, he was hired as chief designer at the lamp manufacturer Fog & Mørup, where he worked until 1980.
He was a pronounced idea person and entrepreneur, who throughout his entire life initiated and developed the things he was passionate about.
He was a key driving force for Fog & Mørup, and it was under his leadership that the company experienced their most creative and commercially successful period.
With a distinct design philosophy, great insight in elimination technique and a profound understanding of form, function and aesthetics, he created over 180 different designs of lamps, several of which have received international awards.
In 1980, Fog & Mørup underwent a series of mergers, and in the late 90s they ceased production of his designs.
ORIENT™, lamp
incl. 21% VAT
Designer: Jo Hammerborg
Variant: Black
Diameter: 225 mm
Height: 245 mm
ORIENT™, lamp
incl. 21% VAT
Designer: Jo Hammerborg
Variant: Black
Diameter: 340 mm
Height: 370 mm